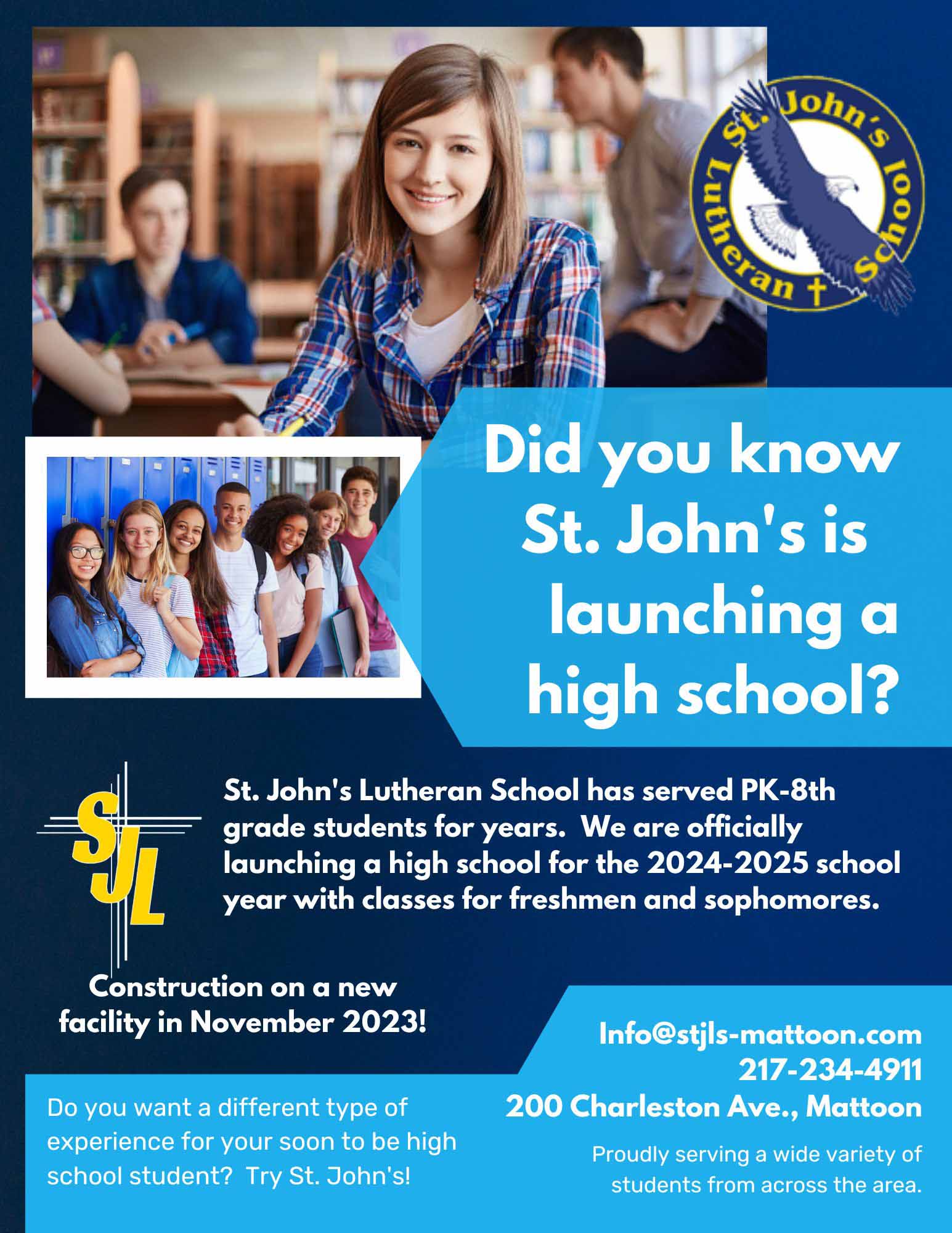 Highlights of our HIGH School program include…
St. John's Lutheran School is known for providing a quality education in a caring, Christian environment. Now St. John's is applying our mission to the high school level, expanding our offerings, yet maintaining the same commitment to our students and their families.
Our Facility
A 37,000 square foot facility that will serve grades 4-12 will be open for the 2024-2025 school year. This facility will include 5 high school general classrooms plus a high school science lab, art room, music room, gymnasium, high school locker rooms, and offices. The building can serve approximately 150 high school students. Future expansion will accommodate further growth.
Our Teachers
St. John's Lutheran School employs certified teachers and will add full-time and part-time teachers as enrollment requires. Some teachers will teach middle school and high school classes while other teachers will be solely focused on high school.
Christian Environment
St. John's Lutheran High School will be a traditional high school encompassed in a Christian setting.
This means that all of the experiences familiar to high school students will be available to
students at St. John's.
Our Curriculum
The curriculum will focus on the core subjects of English, math, science, social studies and Christian studies, but classes will be offered in various electives, the number of which will increase as the school grows. St. John's will use the Genesis Virtual Academy to supplement class offerings. St. John's students will be able to participate in LIFT. Curriculum will focus on preparing students for life after high school, recognizing that all students will be encouraged to seek further education of some sort beyond high school. Applicable life lessons are a priority of the curriculum.
Extra Curricular
Extra-curricular activities will be offered immediately, including student council (Student Leadership Team) and various clubs. These will be designed based on student interest.
Athletics
Athletic teams will form as soon as enrollment allows. Participation in individual sports such as golf, cross country and track and field can be started in our first year. Other team sports such as basketball and volleyball might be available in year one, depending on enrollment and interest. We plan to be a member of the IHSA.
Experiences
Experiences such as dances, proms, special outings, etc. will be a part of the St. John's Lutheran High School experience. Our smaller size will also allow for some unique academic and social experiences off campus.
We have an eight-period school day, with one of those classes being Christian Studies. 
Tuition & fees
$5,000 plus a $150 application fee. There are discounts for members of St. John's Lutheran Church and discounts for additional children at St. John's. Tuition assistance is also available. Additional fees may apply for athletics and extracurricular offerings.
Application
Families of current St. John's students just need to re-register. They do not have to reapply. For students new to St. John's, they apply online through FACTS. Applicants must provide records from their 8th grade school and meet with the principal (family interview) before full acceptance. Applicants will also need to submit the required recommendations. Once all paperwork is received, the application fee is paid, and the family interview is completed, the application will be accepted or denied.
Logistics
the program will follow the logistics of the K-8 program at St. John's Lutheran School. The school day, calendar, lunch program and much more will function the same as St. John's Lutheran School. Our school calendar generally follows that of MCUSD2.
Chromebooks
each 9th grader will receive a new Chromebook. Some textbooks and resources will be on the Chromebooks but most classes will use traditional textbooks.
Policies
The policies for the high school will be the same policies already in place at St. John's. Dress code, attendance, etc. will be the same policies currently found in the Parent/Student Handbook. New policies pertinent to high school will be added as needed.
Honors & Dual Credit
St. John's Lutheran School will have an honors program which challenges students who excel in academics and/or specific academic disciplines. St. John's Lutheran School will offer dual credit (high school and college credit) through Concordia University Nebraska and through Lake Land College.
Junior/Senior Service Project
At the beginning of their junior year, St. John's students are expected to design a service project, establish a plan for implementation, and complete the service project by the end of the 3rd quarter of their senior year. This is to promote an attitude of service, develop leadership skills, and encourage responsibility and ownership.
St. John's Lutheran High School will enroll part-time students.
These are generally home-schooled students who would like to take select classes in person. Part-time students may participate in extracurricular activities and athletics.
Honors Program – we want to make sure that we immediately have a program that will challenge our academically accelerated students.
International Student Program – we hope to add international students to our program within the first few years.
Drug Prevention Program – we want to keep drugs out of our high school so we are discussing options to help our students avoid illegal substances.
Athletic Co-oping. We are in discussions with other schools about this possibility.
Dual enrollment with Lake Land College – for seniors – attending high school part of the day while taking classes at LLC during the day as well.
Library Resources – currently working out a plan with the Mattoon Public Library and Lake Land College's library.