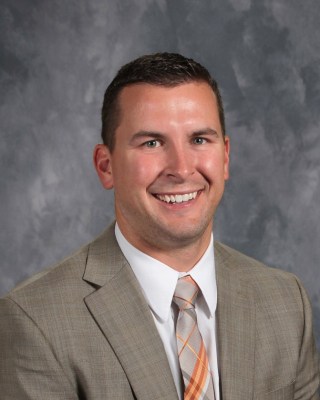 Principal Trent Duckett
Favorite Bible Verse:
"God is our refuge and strength a very present help in trouble." Psalm 46:1
College(s) attended:
Concordia University Wisconsin
Eastern Illinois University
What do you like most about teaching at St. John's?
My favorite thing about St. John's is the ability to connect with all aspects of a child's life. This includes academics, personal, athletic, and spiritual growth.
Hobbies or Interests:
I love to golf, watch and play other sports, and spend time with my family and friends.
A Message from the Principal, Mr. Duckett
Our mission at St. John's Lutheran School is to promote academic excellence, make disciples, and equip our youth to serve, both now and in the future. While attending St. John's, students will have the opportunity to be educated in a CHRIST-centered environment that helps to instill the core teachings and values of the Bible and our Savior, Jesus Christ. It is these teachings, along with a rigorous school curriculum, that provides our students with the ability to excel as they grow and become young, Christian adults. A quick look at our school's philosophy should help explain the high expectations we have for our students.
Jesus Christ is our Savior: We preach Christ crucified. Jesus laid down his life in service for all of the people of this world. He can be seen as our ultimate role-model, as we try to live our lives according to God's plan. This can be seen at St. John's as the teachers and staff work to serve all students with the talents that were given to them by God. Religion classes, chapel, and devotions will also help students gain a better understanding of the role that God plays in our daily life as we build relationships with our Savior and with one another.
Faith/Character: At St. John's, we believe the Bible is the infallible Word of God. It is the tool we use to strengthen an individual's faith and character. As found in the fifth chapter of Galatians, "the fruit of the Spirit is love, joy, peace, patience, kindness, goodness, faithfulness, gentleness, self-control…", and we try to teach these foundational qualities. At St. John's we believe that we are saved by the Grace of God and not by our works, but in our effort to lead a life dedicated to God, we must strive to live like Christ. Our school motto is "Equipping for Service", and because of the loving culture provided here at St. John's, we believe our students will give of their time and talents to better serve others. We insist upon academic integrity, and we hold students accountable for the decisions that they may choose to make. This helps to develop a school where it is a pleasure to learn and work together.
Academics: We will provide a quality education, which will help children develop their God-given gifts and abilities. Our curriculum will challenge students and will help in the growth of their mind, body, and spirit. We make every effort to develop the whole child and provide a variety of opportunities for students to explore the world through academic and extra-curricular experiences. Please browse our website to find all of the wonderful things that we offer here at St. John's.
We, the faculty and staff of St. John's Lutheran School, feel blessed by our Lord and Savior and look forward to the daily opportunity to share in the education and faith development of all of the students.
In Christ,
Trent Duckett
Principal, St. John's Lutheran School